Thermal Imaging is used by many people for a great number of reasons.  There are those that come in with a confirmed disease and monitor its progression, others with unexplained health concerns searching for answers, and others still who are perfectly healthy and who just want to make sure they stay that way.  Jessica assists all of these people by providing preventative education and action to improve upon their health and well-being.
To book an appointment, click the below button or book online or call us on 0419 871 259 or send an online enquiry using the below enquiry form.
Thermography, or Digital Infrared Thermal Imaging (DITI) is a totally non invasive clinical imaging procedure for detecting and monitoring a number of diseases and physical injuries, by showing the thermal abnormalities present in the body. Very popular for monitoring breast health.
Jessica's international and national experience with Thermography will assist in the detection of emotional distress, thyroid health, digestive and liver disorders along with aiding in the diagnosis or monitoring treatment in the following conditions:
Unexplained pain
Headache
Autoimmune conditions
Dental and periodontal disease
Vascular disease (including occlusive disease, deep venous thrombosis)
Back injuries
Identification of myofascial trigger points and tender points
Infectious and Inflammatory conditions
Neurological disorders
Stroke screening
02

.

WHAT IS THERMOGRAPHY?
Thermography, aids in the detection and monitoring of many types of diseases and physical injury.
There are a host of indications for medical DITI including monitoring breast health. DITI can assist in the diagnosis and evaluation of a large number of injuries and conditions. Many people undergo periodic whole-body screening because of thermographys ability to detect conditions and diseases before they become apparent on standard diagnostic tests.
Any individual with unexplained pain can also benefit from a DITI scan. Thermal changes are often the earliest sign of vascular disease, immune dysfunction, diabetes, thyroid dysfunction. It is also the earliest indication of systemic inflammation, a precursor to many diseases.
03

.

OUR MOBILE IMAGING SERVICE
Advanced Thermography is based in Gayndah, Queensland, operated by Jessica Ehrlich who works as a Naturopath and Clinical Thermographer.
Jessica Provides services from as far north as Bundaberg, south to Nambour, Brisbane and west out to Toowoomba.  She welcomes men and women of all ages to her clinic.
Based on Naturopathic principles Jessica believes in a holistic approach to health.  She uses her experience to help clients interpret their reports and to set up individualised protocols as needed.
The procedure takes 20-45 minutes. Images are taken in a relaxed, private atmosphere by Jessica. There is no touching, compression or radiation. It is completely safe.
To prepare for the exam wear loose clothing, no creams/deodorants/makeup. No eating/drinking hot/cold foods 2 hours prior. No sunburn,  no smoking 2 hours prior and no heavy exercise that day.
All images are interpreted by trained professionals and you receive a report with a full set of images with 2-5 working days. Jessica also provides follow up consultations in person or via skype.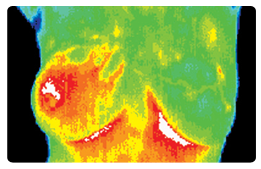 Make an appointment at one of our clinics today. We are available at the following locations: Brisbane, Sunshine Coast, Toowoomba, Bundaberg and the North Burnett.
Which one is better – a mammogram or a thermogram?
That's what everyone wants to know. Really they are very different tests. Mammography is a test of structure, it can show you if you have a lump or not. It's the type of test you cross your fingers for and hope the outcome is a good one. Thermography offers you the chance to become more proactive of your health and potential problems. Then strategies involving changes in diet, exercise, supplementation and stress reduction can be modified.
Mammography involves radiation and breast compression; thermography requires neither. Mammography shows anatomy (structure); thermography is a physiological test only. Mammography can detect cancers very early, as small as a few millimetres; thermography cannot "see" a cancer but instead measures subtle temperature changes in the skin associated with underlying pathology. Thermography can detect physiologic changes associated with a developing pathology while it is still at a cellular level—before it becomes visible on a mammogram.
Thermography has other unique abilities as well. It can indicate hormonal imbalance, estrogen dominance. It can detect lymphatic congestion, also a precursor to disease. The effects of diet and other treatments are also clearly seen.
Thermography does not replace mammography. It adds a much-needed piece to the early detection puzzle, providing risk information and possible early warning signs.
Who can benefit from thermography?
One of the most common uses of thermography is breast screening. Breast thermography is beneficial for all women, including young women, dense breast tissue, women with implants and women who have undergone partial or complete mastectomy. But the fun doesn't stop there Thermography is also an excellent whole-body screening tool, finding dental inflammation, immune dysfunction, thyroid dysfunction, vascular disease, hormone imbalances and systemic inflammation.
Do I need a doctor's referral?
No. Most clients are self-referred.
How much does the procedure cost?
Services range in price from $190.00 for a single breast exam or single region of interest (ROI), $150 for a breast follow up scan, $280 for a half body and $330.00 for a whole-body exam. Discounts may be granted upon enquiry.
Follow up consultations on location or via Skype are $100 per hour.
Is this procedure covered by medicare or private health insurance?
The short answer is no. Larger health funds do not accept thermography but please check with your individual carrier to see what coverage, if any, is available especially if you are a member of a small private fund.
Why do I need a three month follow-up thermogram following my initial breast screening?
Before it can be determined that any changes are taking place in the breasts, an accurate and stable baseline must be established. In other words, we need to know what is your normal thermal roadmap. A baseline cannot be established with only one study, as there is no way of knowing if this is a woman's normal pattern or if changes are actually occurring at the time of the initial study. By comparing two studies three months apart it can be determined that a woman's breast physiology is stable and therefore suitable to be used as a normal baseline for subsequent annual comparative studies.
JESSICA EHRLICH | OWNER AND OPERATOR
Jessica has always been passionate about the health industry. She pursued studies in Naturopathy and Clinical Thermography and now combines these modalities to provide the best possible outcome for each client. She lives on an Organic farm with her partner and 3 children growing animals and small crops for proper nutrition, not just for themselves but for the wider community.
Jessica is spirited when it comes to self-education and self-empowerment and attempts whole heartedly to inspire clients to be the best version of themselves. Servicing Brisbane, Sunshine Coast, Toowoomba, Bundaberg.
Jessica's Qualifications:
Clinical thermographer
Ad Dip Naturopathy
Bach Health Sciences Majoring Complementary Medicine
SUZANNE ROSA | PHOTOGRAPHER
Suzanne loves working in the health industry, supporting, guiding and encouraging clients through their journey. With her endearing smile for everyone, Suzanne uses Natural Medicine herself and has experienced great benefits from it. She is inspired and passionate about participating in mediation and mindfulness practices.
Suzanne has a wealth of knowledge and actively creates a welcoming environment for clients to feel safe in. She enjoys Teaching Heart Resonance, providing clinical thermography and using her certificate in reflexology to support those within the practice. Suzanne has a Diploma in counselling and loves connecting with nature.

International Holistic Center Of Natural Medicine (IHCNM)
Address: 124 Copperfield St, Geebung QLD 4034

Natural Health Clinic
Address: 311 Margaret St, Toowoomba City QLD 4350

Crescent Place Integrated Health Centre
Address: 136 Mapleton Rd, Nambour QLD 4560

Bundaberg Health Foods
Address: 51E Woongarra St, Bundaberg Central QLD 4670

Milton Clinic – Penelope North
Address: 75 Baroona Rd, Milton QLD 4064

Mind Body Spirit Center
463 Charlton Esplanade &, Eric St, Torquay QLD 4655

Holistic health on Denham
186 Denham St, Allenstown QLD 4700